Ne znam kako su

Crabtree & Evelyn

proizvodi izgledali do sada, ali evo ih u novom ruhu.
Nacickani svim iz svacim, sve seoski, herbarijumski, sa finim mekim bojenim povsinama u podlozi, klasicna tipografija... sve nekako uredno i fino i kao da bi svako mogao tako. Ipak tak organizovani haos vesto je i pametno promisljen, deluje lagano i neoterecno, vazdusasto trepti i titra. Celokupni utisak me je potsetio na ove cipele:
... a i na ovo slovo A, rad
Adam&Company
, jedno od slova koja cine ime velikog tipografa
Matthew Cartera
kome ce
AIGA Boston
uskoro dodeliti Fellow Award. Kakav divan tribute!
Back to
Crabtree & Evelyn
, njihove novogodisnje pite i razni kolaci, upakovani su kao da su umotani u listove stare engleske poezije.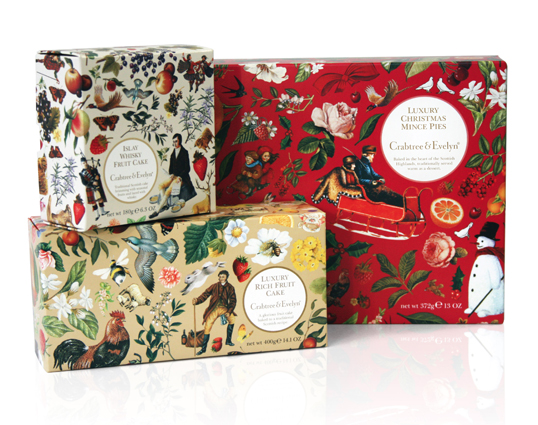 Ilustracije kao one stare botanicke, poneke tako moderne, kao sa aktuelnih hipsterskih tetovaza. Ova plava ptica rasirenih krila na horizontalnom pakovanju, na primer. To je klasicni dekorativni tattoo stil, upravo transponovan i na najchic ubruse koje sam ikada videla. Evo ih, predivno crno beli, mada bih ih obozavala i u koloru.
klik na slike za izvore